Image Credit: T. Daylan et al., Fermi Space Telescope, NASA. Image shows gamma-rays from the center of our Galaxy.
Remember a month or two ago when astronomers claimed to have detected an excess of gamma-rays from around the center of our Galaxy?
The image on the right shows that, after accounting for all known sources of gamma-rays in the region, there is still a lot of gamma-rays coming from this region. So what is creating these gamma-rays? Dark matter, of course!
 Credit: UVA Astr 5630/5640. Image shows the density of dark matter we expect to see when we look towards the center of our Galaxy — very high density right at the center followed by a quick decrease in density. The number of gamma-rays follows the dark matter density.

This slippery substance neither emits nor absorbs light. So naturally, they emit gamma-rays. Actually, according to some models, a particle of dark matter can destroy fellow dark matter particle, leaving gamma-rays and possibly other goodies. This is more of a hope than an established hypothesis.
The center of our Galaxy should be a good source of dark matter-created gamma-rays. It is the location in which the Galaxy's gravity tries to pull everything. Dark matter definitely feels gravity, so it should clump there.
Lo-and-behold, we see gamma-rays from the center of the Galaxy which are not explained. Better still, the shape of this gamma-ray signal looks like the expected distribution of dark matter throughout our Galaxy. So … we've found dark matter!
Hold on one moment. Taking stock of all possible gamma-ray sources in that region is really hard. I mean really hard. A preprint posted just today on the astronomy archive (arXiv) claims that the gamma-ray excess can be explained without resorting to dark matter or other fancy things. All they need are protons flying around in space. These may have been supplied by past supernovae or previous activity of the supermassive black hole at the heart of our Galaxy — two events in which we are confident have happened in the past.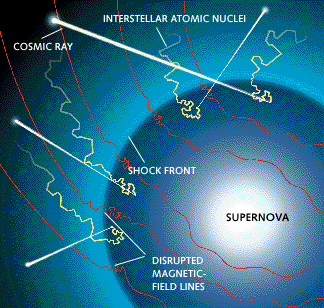 Credit: Scientific American - Cosmic Rays at the Energetic Frontier by Cronin, Gaisser, and Swordy. Image shows how a supernova can cause protons to fly around through space.
Every since findings of the extra gamma-rays have been reported, I have thought that we simply haven't taken everything into account. The analyses which conclude in favor of dark matter are all done very well, but we are always missing some pieces of the puzzle. What can be taken to be a signature of dark matter is really only a proof that we're missing something. Whether it is dark matter or not, I'll let others argue this one out. I'll go back to my own work for a while (which, curiously, is very related to this topic).